Kitchen Design Trends - 1
What are the current Kitchen Fashions?
Most families now have busy lives with often several members of the same house at work. Family socialising is often based around the kitchen and breakfasts, lunches and evening meals are the most important way of getting together. A spectacular fitted kitchen cannot only vastly improve the quality of home life, but will make it more attractive to potential buyers, increasing the value of the house at the same time. Investing in a new quality fitted kitchen can be one of the best decisions you can make for both your home equity and family.

Looking for a new kitchen, worried about which colour and style to choose, then let us try and guide you through the current colours and fashions and give you an idea as to which trends are expected in the next twelve months. Click on the link to the left for extra advice and ideas.

We will start with our views based on the recent best sellers mixed with the latest trade news giving the current design fashions and let independent contributors from other professional companies give an unbiased guide to help you along with your choice.

Furniture – colours and Styles:
The current trend in kitchen design is towards minimalism.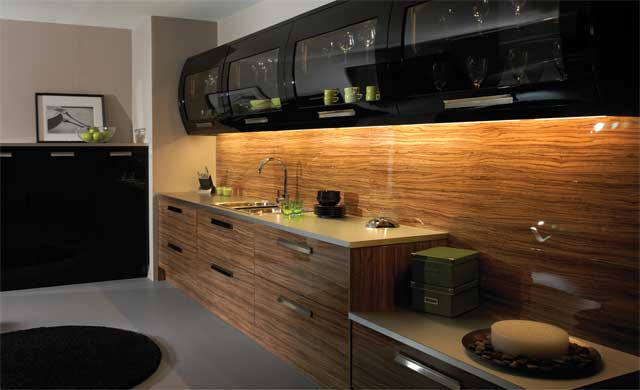 At the moment curves are very important in the design process; being able to soften the lines and eliminate any hard edges will create a family friendly kitchen that is unique in design and create a completely streamlined look.

Curves are not just for base and wall ends or bowed within a run, but can also be added horizontally as shown on the wall units in the image to the right. Many curved doors can make a circle or semi-circle, so features can be made with little effort, mixed with other units the options are endless – if you have the space.

The clever use of shapes in the kitchen can highlight an area to be the main feature of the room, the trend for centre island units and open plan living particularly lends itself to this, using a circular rather than a square or rectangular island unit helps it become the focal point of the room.

One of the biggest trends to emerge in the latest kitchen design is the use of colour, which is becoming much lighter and seductive, but following behind are earthy tones whether in woodgrains or plain colours. Colours are available in earthy, autumnal shades, as though extracted straight from nature's own palette. New for this year include colours as light Grey, biscuit, stone, light blue and porcelain both in gloss & painted matt colours, as well as the softer Ballroom & Powder blue shades. All of these colour combinations will be around depending on whether you are looking for a Classic or Contemporary style doors.

Strong pigmented, gloss coloured doors are definitely on their way out at the moment. There is a massive spectrum of shades out there waiting for you, there is a colour for everyone to enjoy. Try using two colours together such as white and powder blue - or add a woodgrain to your favorite colour.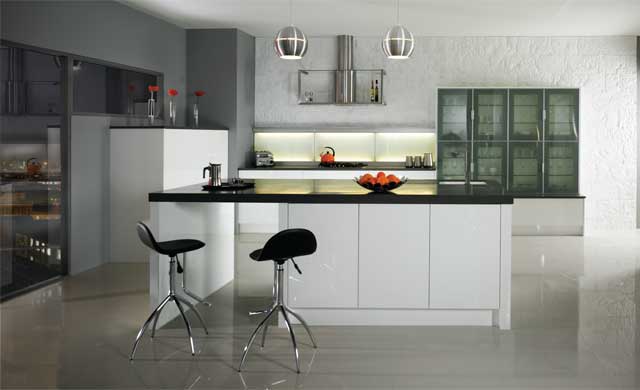 For homeowners seeking out the increasingly sophisticated and stylish minimalistic design – to create a statement, white and light colours are always definitely in fashion,
(thats if it ever went out at all) as it creates a crisp and clean style. Flat gloss doors with contrasting gloss quartz worktops and no handles, (handle-less kitchen) will complete the kitchen to create a simple yet truly stunning chic design look that doesn't date – as shown on the left.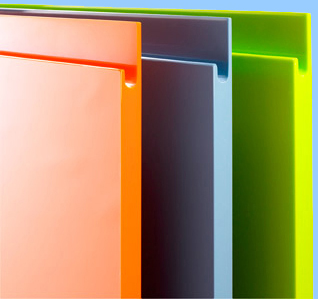 Do not confuse this door with some of the kitchens being offered as 'handle-less' by some of the larger well known companies, they often have an integrated rail type handle (J pull) as shown on the right and sell it as handle-less.
As this door has a handle it is NOT handle-less – it has an integrated handle!
Let us not forget the classic, traditonal painted kitchens, due to the pastel colour ranges being offered these never date and have been strong sellers for many years now with no sign of disappearing anytime soon – if anything the ranges are getting much larger.

Painted timber kitchen door sales are increasing rapidly and are predicted to be one of the most popular finishes for the year, we can now supply painted kitchens in any colour required as a matt or gloss finish. If you are looking for a modern contemporary painted gloss door, we can supply that in any colour too, direct from our paint workshops, from a standard gloss door up to the ultimate highly burnished mirror finish kitchen.

Have you seen just that right paint colour for your kitchen that you simply must have? If so, our new colour matching service will find it for you. DOOR COLOUR MATCHING SERVICE

The standard painted options are offered in four finishes subject to your choice of door style and epitomise the contemporary, the traditional, or anything in between, representing your own unique taste and personality, as offered in your design specification. The choices are as follows –

Smooth: All naturally occuring knots, cracks or splits are filled, leaving behind a smooth, uniform texture. This door does, however, still feature a certain amount of wood grain through the painted surface. Although popular with contemporary kitchens (as the image below) it will also suit a traditional setting.

Distressed: All naturally occurring knots, cracks or splits are filled to leave a smooth finish, which is then rubbed down at the hard edges to leave a 'rubbed-through' or 'distressed' look. Creates an 'aged' look and feel.

Character: Knots, cracks and splits are left unfilled and vary in size from door to door to create a kitchen that is full of character and looks like it's always been there.

Character with Distressing: Knots, cracks and splits are left unfilled and vary in size from door to door. Hard edges are then rubbed down to leave a 'rubbed-through' or 'distressed' look. This creates an 'aged' look and feel.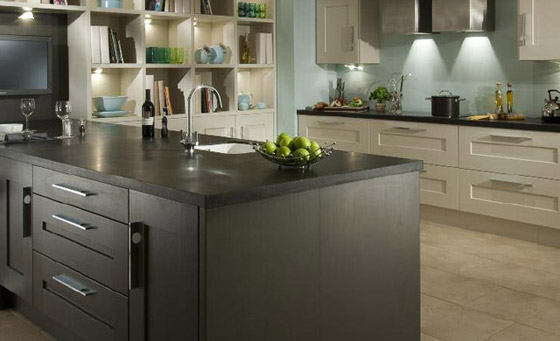 The painted style is very popular in the mid to higher price kitchen collections and as paint finishes become more evolved, it can be a very hard wearing and durable finish, but still remains warm and natural to both view and touch.

Manufacturers now offer paint finishes in an extensive range of all colours. Contrasting colours will be the chosen look for furniture. Whether two classic painted woodgrain colours, or a high gloss woodgrain with a plain gloss colour are mixed for a more contemporary feel, these are the combinations to create a glamorous and understated look.

For a clean sleek feel using a contemporary shaker door, again you could try using two colours together as mocha and white cotton, or an ivory & natural olive combination; there are many more to try, the contrasting colours highlight the simple features of this timeless style kitchen. Sharply designed accessories will complete the look.
Appliances – new advances:
For cleaning appliances such as washing machines, the load sizes are becoming the prime importance, 8kg and 9kg drums are becoming more in demand. Also cleaning appliances that offer excellent results at low temperatures, and consuming less water than standard will continue to become popular. Dishwashers with 14-place settings on full size models and 10-place settings on slimline are becoming more widely available.

The demand for self cleaning ovens will reach a new high level within a couple of years. For oven types, steam is coming more affordable for cooking healthy meals quicker. According to Neff appliances: "Steam is a key area of importance in the oven market. With the growing demand for healthy eating and cooking, steam has come into its own in the last year or two and is building up momentum all the time. We plan to further increase our steam oven range this year."

Pre-programming ovens are also becoming a big feature at the high end of ovens, where the cook puts the dish into the oven, inputs the weight of the food, pushes a button (some ovens with touch control similar to a touch phone) and the oven will work out the rest depending on the extent of cooking required, from rare to well cooked, or with a cake or some delicate recipe, using a programme already built-in to the oven computer.
FORWARD TO 2nd PART

Please contact us to discuss your requirements.